People wear rings for of a wide variety of reasons. Some wear for sentimental reasons or vanity, and there is some who wear as a symbol of status.
There are also others who believe in wearing certain rings will have benefits such as magic talismans, protection from evil spirits and amulets. Rings are also used as identification with certain groups, such as military groups and schools.
Some rings became so vital that it's regarded as family heirlooms and passed down from generation to generation.
Now we ask ourselves, why should we wear biker rings? Before you carry on reading, be warned, wearing rings can become an obsession. These are the reasons one should wear biker rings.
A simple stainless steel ring, set in the center of it, a gorgeous black agate stone. With that cushion like square cut done by our crafts men, it gives off an elegant yet strong vibe.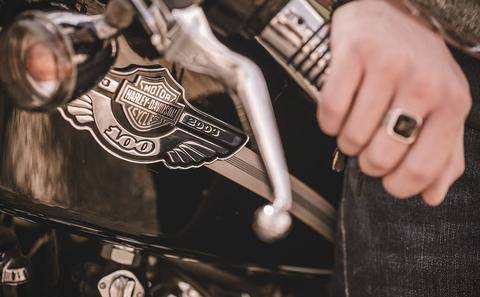 1. It Speaks of Your Biker Fashion Style
Biker fashion has turned out to be pretty much more common these days. You can see it wherever, be it on TV, in films and even fashion magazines.
A real biker knows it takes more than putting on a leather biker jacket to complete the look. What's more, the right ring will enable you to achieve that.
When looking for biker jewelry, don't only go for any rings. Search for the boldest ring that you fucking find, something that captures the essence of rebellion itself. Imagine riding out on the road, and every time you look at your fingers on your bike's handle, you feel the thrill and admiration of the rings you are wearing.
2. It Depicts Your Values In Life
A few people don't merely see bikers' ring as just an accessory; we view biker jewelry as a part of who we are.
Perhaps you've inherited your biker ring from your father or then again maybe someone important in your life gave it as a gift.

If a ring brings special meaning to you, it is more than merely just an accessory. It shows what you value in life, what is most vital to you. This is you, your core value in life.
3. It's a Conversation Starter
Biker Rings is the last piece to be put on, much like an artist who adds that final touch to his artwork. The ring is the art piece that is the first to be noticed by the crowd. The center of attraction - the conversation starter.
That's the beauty of a good biker ring. If someone compliments your biker ring, you should tell them the story behind that piece of jewelry. Perhaps you might have bought it at That Ring Shop?
Or maybe perhaps it has a unique origin story, a gift or even something that represents your struggles in life. Whatever it is, it can be used as a way to share people something about yourself.
4. It Shows Your Current Feeling


Biker jewelry and especially rings come in various shapes, sizes, and themes. So you don't need to constrict yourself to purchase only a few. Get a bunch!

A skull ring, for instance, is a good constant reminder that everyone will die one day and we should live each day to the fullest.

A lion ring represents courage, strength in overcoming difficulties. The presence of this mighty animal also means that one is "wild" or difficult to control.
So what is your current mood today?
5. It Defines Your Unique Biker Style
In case you're merely just starting out and still finding your biker style, try on various biker rings might do it. Go for a classic and simple design such as the Classic Iron Cross Ring in case you're not prepared to go an all-out bold biker look.
At the point when you think it's an ideal time to be full-on bold, go for eye-catching pieces. Keep in mind to mix and match and check out as many rings as you can. Most importantly let your heart guides you on your choices, and your personality will show.
6. It Gives a Chance To Be Yourself
The general purpose of jewelry itself is to express yourself. Why should you follow trends and be a sheep? Be yourself. What you wear ought to mirror what's within - your values, feelings, interests, and thoughts.
So don't be excessively worried about what other "senior" bikers or even the general people around you think for you. Don't hesitate to wear whatever sort of biker rings you need.
Factors To Consider When Getting Biker's Jewelry.
You don't need to purchase a costly biker ring to nail the look. Search for a store that offers a wide variety of designs and prices.
You should always spend as much time as is needed when looking for biker jewelry that is suited to your budget. If you want something cool yet not so costly, pick the ones are made of stainless steel, but if you want something of value, choose the ones which are made in sterling silver.
When buying online, don't forget to check the store shipping cost and returns or exchanges too. If you're searching for quality bikers' jewelry such as rings, bracelets, necklaces, earrings, you've found the ring place.
At That Ring Shop, we offer you artful and imaginative pieces of bikers' jewelry that suit your personality and help bring out the real you, wherever you go.
Give yourself the rings you deserve
The rings from hell with class, bikers handmade sterling silver jewelry. A collection of the bold and beastly, any sort of rebellious intent, or just plain fucking wicked rings. If you are a biker, goth or you simply rock then, we have a special section of sterling silver biker rings for you. Put on any of these biker rings, and you will feel bold and empowered.
Free Worldwide Shipping  ●  Free 30 days return  ●  10% off on your first order